Thank you so much to everyone who has given us an award,
you have no idea how happy it makes us to know you like our "home"! From David, Anna and Elizabeth!
Click here to apply for our award!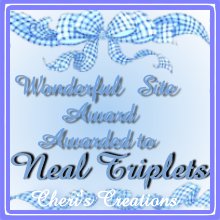 Back to the Neal Triplets Home Page.
Logo and background created by Angela Neal


This page was updated Sunday March 18, 2001.
Created by Angela Neal - 2000.