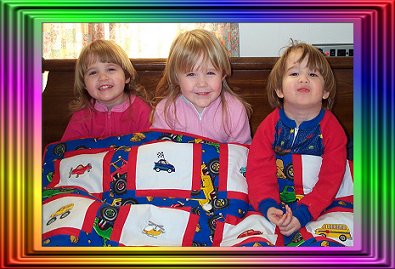 Anna, Elizabeth and David
February 18, 2001
Hello!!! We are the Neal Triplets... David, Anna and Elizabeth. We are THREE now! Come on in and see our Birthday Pictures... :o)
This site is about us and our family... Our Daddy's name is Dave, and our Mommy's name is Angela. We have two older sisters, Andrea (18) and Nicole (14). We live in Illinois.
Our parents want to use this "site" as a way to find other triplet families... But also for anyone else who shares any of our interests, including us kids!!! So please, make yourself at home and check out our site, and come back often because Mommy says she's going to put new pictures and info up "as often as we let her"...!!!
Don't forget to e-mail us
and let us know what you think of our "home"!!!!
Click on the bears below to go our pages:
| | | | |
| --- | --- | --- | --- |
| Daddy & Mommy's | David's | Anna's | Elizabeth's |
| Page | Page | Page | Page |
Mommy added some "gifts" she's been given to Mommy & Daddy's Pages! Be sure to visit there!
Come visit Mommy at her business site, too!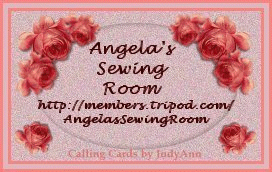 Custom made quilts and machine embroidery items!
This "card" doesn't show it, but Mommy moved her "Sewing Room" to it's own new home on the web!
http://www.angelassewingroom.com

***Mommy has found some time to put Our Newest Pictures
up to share with you, please come see them!!***

Here are some "Good for the Soul" stories we wanted to share.
(Mommy says that you might want some kleenex handy!)
Here is a page of LINKS that Mommy has been working on putting together to friends' and informational sites.
Here are the Web Rings we belong to!

Please come check out the AWARDS we have won!!
Thanks times three!!!
You can even apply for Our Award!
Sign My Guestbook
View My Guestbook

+ 684 visitors to our "last home" since December 1999!!!
If you have any questions or comments for us,
please e-mail us! We'd love to hear from you!!!

Logo and background created by Angela Neal



This page was updated Monday March 19, 2001.
Created by Angela Neal - 2000.