Mommy & Daddy's Page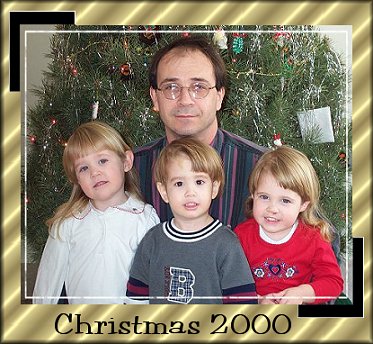 Daddy, Elizabeth, David and Anna

Hello!!! Welcome to our page... We are Dave and Angela, that's "Daddy" and "Mommy" to David, Anna and Elizabeth! This is "our" page, but it is being written by Angela, so when I write "I" it means Angela....!! Did you notice, how when I list the kids, it's always, David, Anna and Elizabeth, that is their birth order... I figure that's the fairest way to do things!
We thought we would give you a little background about our family, and then maybe tell you some of our interests besides our kids...We are allowed to have other interests, right?!?!?
We are very blessed to have David, Anna and Elizabeth. I really wanted children of my own, and was just lucky enough (!!!) to have three at one time! The pregnancy was high-risk, but pretty much uneventful. I quit work at 20 weeks, and spent the rest of the time on bed-rest at home. Only one weekend was spent in the hospital (at 30 weeks), when the contractions got "out of control", but after a couple of days, they sent me back home and said "Two more weeks"... And then they said, "Why don't we wait another two weeks?" Thank God for Dave during that time, or I don't think I would have been sane! But the babies were born at 36 weeks, only 4 weeks early, and VERY healthy. The only surprise was that they had told us it was going to be two boys and one girl, but instead it was one boy and two girls! Many thanks to our families and my doctor for their support during that time! As I look back on the pregnancy, I "knew" the risks, but only now can I really appreciate the miracle that these babies are. There were so many risks, but we were blessed with three very healthy, pretty much happy babies!!!
So, if you are on this page, you probably want to ask "How do you do it?!?" The best answer is that we do things just like everyone else, one day (hour, minute...) at a time... And sometimes it really is only one minute at a time!!! There are not-so-good times, but then you have the times when they melt your heart with an "I love you" or a kiss that was unexpected! Times three is even better! I think the other important thing for me is to make sure you leave time for yourself each day. (Getting up extra early is my way of doing that!)
Now I think I'd like to share with you our potty-training story!! If you go to each of the kids' pages, you'll find a little "potty" graphic, and you might be wondering what it's all about! :o) Basically, I was dreading terribly the idea of potty-training. How was I supposed to get three kids to go potty on the potty chair -- what was I going to do?!?!? I decided to start by putting them on the potty when I would change their diapers. This was a little bit after their 2nd birthday. No-one showed any interest at all! But I kept doing that... Then when they were about 2 1/2, I decided it was time, so I got out the "training" underwear and insisted this was what was going to happen! Well, after about 1 day of that, with NO SUCCESS I was like, why am I torturing myself to do this, I'm just upsetting everyone, them and ME! So, I just continued putting them up on the potty chair when I'd change diapers, and they started showing lots of "interest" but it still was not consistent... Then about 6 weeks ago, I decided it really needed to be time, maybe I was just being too easy on them, letting it go this long... They're going to be three in November...!!! So, we got out the "reward stickers" and we got out the fancy underwears... :o) And I told them "this is what we're going to do!" (again!) Within a day, they were all going potty on the potty chair! We've had many "accidents" and they still wear pull-ups (nighty-night underwears!) at nap-time and bed-time, but otherwise they are doing just great! So really the moral of this (long!) story is, they'll do it when they're ready! I think really what happened in our case, was that they were "ready" before I was then! I was dreading it so much, that I didn't end up making them, and then when I finally decided to do it, they were ready! :o) Just wanted to share that...
I don't really know what else to say, except that if you are a multiples mom or mom-to-be, I would really love to hear from you! Anyone else, too, of course! Because that really is the reason we decided to so this web-site, was to reach other families with interests similar to ours! We've already "met" some really wonderful people, and made some lasting friendships, but you can never have too many friends!
I do think our situation as a triplet family is unique, and it can be hard at times, but also it really is rewarding!
So, then, on to some of our other interests!!
Dave's main interest is ANYTHING electronic... He likes running them, fixing them, etc. He also is musically-inclined, and likes to paint. (I tried to get him to do his own page, but he declined, so this is what he gets...!)
Onto the stuff I'm interested in... I have two "major" interests right now... Paint Shop Pro 6 (7 is coming out soon!) and anything to do with my sewing machine! Machine embroidery, quilting and just general sewing... I just recently was lucky enough to get a Singer XL1000, so that handles my sewing needs very well! (There are too many goodies that go along with it, though, just ask Dave!) I do have a business site, "Angela's Sewing Room", where I offer machine embroidery items and quilts for sale. I'd love if you would click on the link below to visit me there! Soon there will be a new drawing for a "Spring" machine embroidery wallhanging!
I make my own graphics with Paint Shop Pro 7, and I'm having a great time with it. I help out with two great YahooGroups, PSP Friends and PSP7. These are the nicest groups of people you'd ever want to meet! Click on the link below to visit us!
Check out these great gifts that I've received from my dear on-line friends! Be sure to visit their sites, too! :o) You'll be glad you did!
Please don't hesitate to e-mail Dave and I with any comments or questions you have about our site or our interests... Thank you for visiting with us!

Home
David's Page
Anna's Page
Elizabeth's Page
Logo and background created by Angela Neal


This page was updated Sunday February 18, 2001 .
Created by Angela Neal - 2000.